Going to a restaurant can be a daunting task when you take a look at the myriad of choices on the menu.
You start by glancing at the appetizers, which on average can contain more calories and fat then the entrée itself.  Not to mention trying to avoid all the succulent smells permeating the restaurant persuading you to make bad choices.  You decide to skip right over the burger portion of the menu to where you would think would be a healthier option.
The Salads!
Nothing saddens me more than taking a salad and adding so many fattening, artery clogging ingredients that take it from a good choice to one of the worst choices!
Take a look at the Top 10 Worst Salads that I've been investigating at some of the major chains and see if one of your favorites made the list:
1. Panera Bread Chicken & Avocado Cobb Salad
Calories: 640
Fat: 47g
Protein: 42g
Carbohydrate: 14g
Sodium: 1040mg
2. Costco Chicken Caesar Salad
Calories: 670
Fat: 40g
Protein: 48g
Carbohydrate: 35g
Sodium: 2680mg
3. Taco Bell Beef Fiesta Taco Salad
Calories: 780
Fat: 42g
Protein: 26g
Carbohydrate: 74g
Sodium: 1590mg
4. Red Robin Southwest Grilled Chicken Salad
Calories: 873
Fat: 51g
Protein: 49g
Carbohydrate: 48g
Sodium: 1705mg
5.

Red Robin Crispy Chicken Tender Salad

Calories: 1348
Fat: 92g ( NINETY TWO GRAMS OF FAT!!!  SERIOUSLY???)
Protein: 58g
Carbohydrate: 73g
Sodium: 2325mg
6. Applebee's Southwest "Fiesta" Salad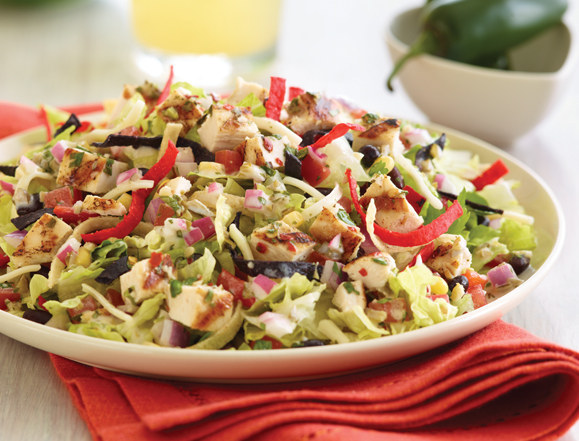 Calories: 870
Fat: 42g
Protein: 38g
Carbohydrate: 86g
Sodium: 1680mg
(this is WITHOUT added sour cream, salsa or  guacamole)
 Calories: 1310
Fat: 76g
Protein: 51gr
Carbohydrates: 112g
Sodium: 2330mg
8.

TGIF's Pecan Crusted Chicken Salad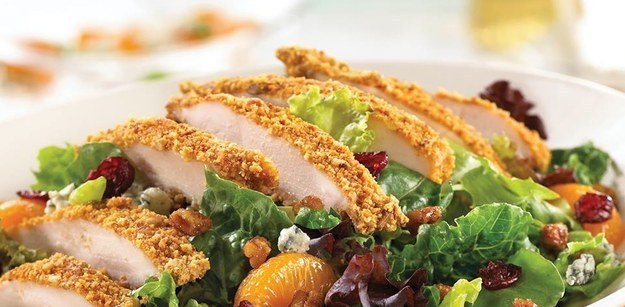 Calories: 1080
Fat: 71g
Protein: 39g
Carbohydrates: 76g
Sodium: 1650mg
 Calories: 1130
Fat: 15gr (this is SATURATED fat as we couldn't find the TOTAL gr of fat anywhere!)
Protein: ??
Carbohydrates: 93g
Sodium: 2150mg
10.

California Pizza Kitchen's Caramelized Peach with Salmon Salad

 Calories: 1220
Fat: 88g
Carbohydrates: 72g
Protein: 42g
Sodium: 1120mgSo were any of your favorites on this list? Did some of them shock you as much as they shocked me?