Get the same all day – slow cooked flavor in this simple and easy stovetop chili, which is done in about and hour and is a game day favorite!
Most good chili recipes require a fair amount of time to make, like on a cold or snowy weekend. I know several people whose recipes can upwards of 12 hours to make! They take their chili making very seriously I must say.
What makes our chili recipe so popular is not only how great it tastes, but that it's done in ONE POT and in record time.
THE BEST GAME DAY MEAL
Let's face it, even if you're NOT the biggest football fan (I'm not sure who exactly falls into that category) chances are you have been or will be invited to a Super Bowl party at some time in your life. And let's be honest, the food is the best part.
Google released this infographic regarding searches for Super Bowl food broken down by state. These searches start as early as January each year.
The Top 3 most searched game day foods are :
Chicken Wings
Guacamole
Chili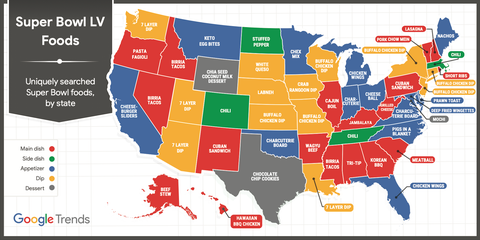 WHAT MAKES A GREAT GAME DAY FOOD?
The first thing I think of when it comes to providing food for one of my Super Bowl parties is convenience. I do NOT want to be cooking when the game is on. Chili is one of those super yummy, warm and filling foods that is better when it's made the day BEFORE.
Making chili the day before allows the flavors to deepen and marry together. Then all that's left to do, is put the chili in the slow cooker and heat it up until it's nice and piping hot and then turn the control dial to 'warm' until your guests arrive.
So, let's get started, shall we?
HOW TO MAKE THE EASIEST & FASTEST CHILI
Start by browning the meat over high heat. I add a little oil to the pan to start with and then let the beef BROWN. Don't touch it until you start to see it caramelize on the sides. This is where the beef gets some great flavor. Then break it up using a large wooden spoon.
Next add the onions, peppers and celery. Give them a good stir. I do have a jalapeno pepper in the ingredient list, feel free to omit this if you choose or if you like your chili hotter, leave the ribs and seeds in.
Add in the spices. Here is where the chili gets its star rating. I am using a combination of smoky, savory and spicy. The important thing to remember about dried spices is their flavors are released by (1) the oils in your hands, and/or the oil in the pan, so be sure to rub the spices as they are going into the pot and allow the spices to cook for a minute before adding any liquids.
Add the kidney and pinto beans and liquids. Give it all a good stir to combine.
Now just let the chili simmer for as long or as little time as you have. I've eaten this in a little as 30 minutes and I've also let it simmer (partially covered) for up to 3 hours.
BEST SIDES AND FINGER FOODS TO SERVE WITH CHILI
Cornbread – the #1 side dish for chili. Why? Because it's just heavenly when it's broken up into little pieces and put on top of chili.
Potato Skins – the sour cream and cheese and bacon mimic the toppings on chili.
Baked Potatoes – anyone ever have the famous Chili and baked potato combination from Wendys?
Garlic knots or Breadsticks – perfect for dunking!
Nachos – Nachos go with anything. I think they even have their own food group.
BEST CHILI TOPPINGS:
Shredded Cheddar Cheese
Sour Cream
Sliced Avocado
Guacamole
Cilantro
Sliced Jalapenos
Tortilla Chips
LOOKING FOR MORE CHILI RECIPES?:
If your looking for a beef alternative, our turkey chili is outstanding!
Chili does not have to contain meat at all if you don't want it to. This sweet potato and black bean chili is chock full of potatoes, onions, carrots, tomatoes and beans.
Thanks to the Instant Pot, this white chicken and chickpea chili contains NO beans and is made in under 30 minutes.
Print
Simple and Easy Game Day Chili
---
Description
Get the same slow cooked flavor in this simple and easy chunky ground beef and bean chili, which can be in your tummy in under an hour!
---
2

lbs Ground Beef

1 ½ Cups

Onion, diced

1

Green Pepper

2

Stalks Celery

1

Jalapeno Pepper (optional)

2

Cloves Garlic, minced

¼ Cup

Chili Powder

2 teaspoons

Cumin

2 teaspoons

Garlic Powder

2 teaspoons

Sugar

1 teaspoon

Sea Salt

½ teaspoon

Pepper

½ teaspoon

Oregano

¼ teaspoon

Cayenne Pepper

1 Quart

Tomato Juice (preferably low/no salt)

1

(29 oz) Can Crushed Tomatoes (or diced tomatoes)

1

(16 oz) Beans in Chili Sauce

1

(15 oz) Red Kidney Beans, drained

1

(15 oz) Pinto Beans, drained
---
Instructions
In a large stockpot, over med/high heat, brown the beef until a deep brown crust appears before breaking the beef apart. Once you see the beef begin to brown on the bottom, give it a good stir and being breaking the beef up with a wooden spoon or fork. Cook the beef until it's almost cooked through.
Add the onions, peppers, celery and garlic and cook until softened, approx. 4 minutes.
Add all the spices and stir to combine cooking for a few minutes to allow the flavors to release into the oil, meat and veggies.
Add the tomato juice, crushed tomatoes and beans
Simmer over very low heat for a minimum of 30 minutes (up to 3 hours for more flavor and a thicker chili)
Prep Time:

15 min

Cook Time:

30 min